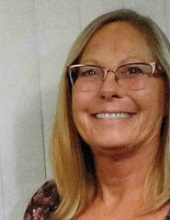 Obituary for Diane Wendelin
Diane Lee (Schoneweis) Wendelin, 60, of Crete, died Sunday morning, March 3, 2019 at the Beatrice Community Hospital. She was born on March 17, 1958 at Beatrice and was baptized and confirmed at St. John Lutheran Church in Beatrice. She graduated from Beatrice High School in 1976 and married Lonny Wendelin on October 15, 1983 at Martell. She was employed at Region V Services in Crete for 40 years and was the community support coordinator. She was a member of Bethlehem Lutheran Church in Crete. Diane loved her children and grandchildren, and so enjoyed going to the grandkids sporting events. She also loved her dog, Zoey. Her favorite place to visit was Sanibel Island where she could relax and collect shells with her sisters and brothers-in-law.

Survivors include her husband, Lonny Wendelin of Crete; son, Christopher (Nicki) Wendelin of Hickman; daughter, Stephanie (Jason) Elledge of Crete; four grandchildren, McKenna Wendelin, Noah Sysomphone, Presley Elledge, and Greyson Elledge; her parents, Delmar and Sharon (Giesman) Schoneweis of Beatrice; brother, David Schoneweis of Tulsa, OK; two sisters, Sherri (Rod) VanLaningham of Beatrice and Robin (Steve) Sugden of Adams; mother-in-law, Carol Wendelin of Martell; four brothers-in-law, Terry (Cindy) Wendelin, Scott (Kelli) Wendelin, Rex Wendelin, and Kirby Wendelin and friend Julie all of Martell; many nieces and nephews. She was preceded in death by her grandparents, Herman Schoneweis, Anne (Ideus) Schoneweis Schmidt, and John and Elsie (Gebhard) Giesman; father-in-law, Roland Wendelin.

At Diane's request there will be no service or visitation. Cremation has taken place following the pancreatic cancer medical study. Diane's cremains will be scattered in Florida at a later date. A memorial has been established to Region V Services in Crete and should be sent to Fox Funeral Home, 1116 N 19th St, Beatrice, NE 68310. www.foxfuneralhome.net Fox Funeral Home of Beatrice is in charge of the arrangements.